Projects
Super High Rise Towers
AL Hamra Office Tower - Kuwait
Office Tower 78-story Office tower mixed use, 412 meters tall. The Project consists of a high-rise office tower, a podium/shopping mall and an attached car park building. The site for has a total area of 10,987 square meters.
AIG Tower - Hong Kong
Main Headquarters in Hong Kong 55.
Connaught Tower - Hong Kong
Office Tower 36-story Office tower Single Tenant use.
Bear Sterns Headquarters - New York, NY
383 Madison Avenue, NY  Office Head Quarters for Bear Stern tower, 48 story office building. Single use occupancy of 1,200,000 Square feet with 5 floors of 300 stock market traders.
Swiss Bank - Stamford, CT
Single Use UBS Head Quarters office tower and trading area 30 story tall building, 1.2 million sq. ft with a single floor of 800 stock broker's traders.
ARB Bank Headquarters - Riyadh, Saudi Arabia
Central Bank of Saudi Arabia 60 meter tall building office building, monolithic rammed earth cube. The windows create a phenomenal play of light and shadow, and allow intermittent of the outside.
300 Madison Avenue Office Building
Existing 35 story building, refaced store front and curtain wall with a new central core facilities to match.
Beirut World Trade Center
Design Competition World Trade Center Beirut brings together business and government agencies involved in international trade, provides essential trade services, and stimulates the economy of the region it serves. The objective of WTC Beirut is to provide local businesses interested in international trade and in expanding their markets with valuable opportunities and qualified services. Located in the heart of the capital, WTC Beirut is at the service of the Lebanese economy in its integration with regional and world trade systems.
Almaty Financial District Office Buildings - Russia
12 office Buildings, 12-15 stories, 1,599,000 square meters of office space. Site consisting of a Corporate park setting consisting of 12 office buildings.
Morrissey Boulevard - Boston, MA
Office space/parking 2,000 cars – 1.6 million sq. ft.
Schott American Corporate Headquarters - Yonkers, NY
Head Quarters For Scott Glass German glass, 500,000 sq. ft. office building.
100 North Office Buildings - Mount Pleasant, NY
New Head Quarters office buildings for W.M.C.
JP Morgan Chase Office Building Headquarters - New York, NY
Architecture for a new 45-story headquarters including trading floors, offices, and support spaces. Project area was 1 million sq. ft., 2002.
Daily News Headquarters - New York, NY
Interior space – 33.000 sq. ft.
AT&T, Westchester Avenue - White Plains, NY
Interior space – 250,000 sq. ft.
NYNEX Corporate Headquarters - White Plains, NY
Interior renovation – 64,000 sq. ft.
Kingsboro Alcoholism Treatment Centre - Brooklyn, NY
New Construction – 150,000 sq. ft.
Swiss Bank - Stamford, CT
Addition 800 trading hall building office space/parking 2,000 cars – 1,6 million sq. ft.
Airports and Transportation
Metropolitan Transit Authority - New York, NY
Renovation of existing 14th Street subway station.
Toronto LBPIA (New International & Domestic Terminals)
Terminal One
Changi Airport & Train Station (Term; T2 & T3) - Singapore
New Terminal 3 entry and underground Metro
Subway Station 14th Street & 8th Avenue
Renovation of existing 14th Street subway station.
International Arrivals Building at JFK Airport - New York, NY
Design of a new terminal expansion project upgrading capacity to 70 million passengers/year effectively doubling its size. (1997-1999)
Lester B. Pearson International Airport - Toronto, Canada
Design of a new unified terminal expansion project upgrading capacity to 50 million passengers/year effectively doubling its size, 2007.
Changi Airport, Terminals 2 & 3 - Singapore
Conceptual planning for a new 200,000 sq. ft. terminal to accommodate 20 million passengers/ year.
Ben Gurion International Airport
Military Academy - Kuwait
15 building campus.
Kuwait Police College - Kuwait City
Architectural design and planning for a 28 building campus for national security forces situated on a 75-acre site to serve 1,200 students, 2009.
The Student Activities & Athletic Facility, at the Saba-al Kuwait University
Architectural design and planning for a 10 buildings. A complete collegiate sports program and dynamic student center acts as a social HUB for the University. (2012)
Pre-K Center Q378
Completed the design of a new 12,000 sq ft Pre-K center in Queens, NY. The project consisted of gut renovation of a single story commercial building. A new aluminum and glass store front with Hurricane resistant laminated glazing replaced the existing masonry wall to allow for maximum light to enter the building. Decorative, transparent, film was applied to the glass. A clearstory was designed on top of the classrooms to bring in natural light. The existing structure was used to enhance the space by exposing and painting the horizontal and vertical structural elements.
Pre-K Center K765
Recently completed the design of a new 14,000 sq. ft. Pre-K center on Coney Island Avenue in Brooklyn, NY. The project consisted of gut renovation of a two floor commercial building.
Public School 163Q – Addition
Recently completed the design of a 50,000 sq. ft. addition at PS 163Q. The project also included gut renovation at the existing first floor level of the school as the main entrance was relocated to the addition. Redesign of all the toilets and other ADA upgrades in the existing building where required.
John J Criminal College - New York NY
New 14 Story Building New City College Criminal Campus Construction started 2008.
Public School 338K
 This new PS/IS incorporates a full program for Pre-K through eighth grades. The square footage requirements of the program for this school required the entire site to be developed. The school structure being situated along Coney Island Avenue with the main entrances to the school from Hinckley and Turner Avenues. The building structure comprises of two major blocks; the academic block and the public assembly block. The academic block is a five story structure with the P.S. functions occupying the lower two levels. The public assembly block encompasses the cafeteria/kitchen at the cellar level, the gymatorium function occupies the first and second floor levels and the gymnasium occupies the third floor level"
Public School 244Q
P.S. 244Q is a new Early Childhood Learning Center in Flushing Queens. The site is located in a tight urban area surrounded by apartment buildings. The design of the project is intended to create a bright cheerful oasis of learning. The front façade has a number of playful elements to enhance the early childhood learning experience, including the use of primary colors and exposed structural trusses. The scale of the front façade is treated to reduce the apparent massing of the building for small children. Inside the building is designed with Kindergarten through 3rd grade classrooms, cafeteria and kitchen area, a multi purpose room and at the fourth floor level a library space with a barrel vaulted ceiling and glass curtain wall
North Shore/Long Island Medical Center - New York, NY
A replacement facility with an inpatient bed tower, labor and delivery, 2011.
Kingsboro Addiction Treatment Center - Brooklyn, NY
This new six-story facility is the prototype for inner city treatment centers for the New York State Office of Alcoholism and Substance Abuse.
Montefiore Medical Center, Jack D. Weiler Hospital - Bronx, NY
This project involves the renovation of several departmental areas and the corresponding relocation of existing services on the ground floor of the JD Weiler Hospital Building.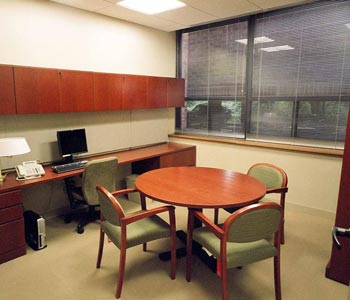 Greenwich Hospital - West Hartford, CT
A new 2,500 sq. ft. Obesity and Healthy Living Clinic, renovating an existing medical office space with a limited floor plan to accommodate physical therapy rooms and waiting area. A Blood Draw Clinic, including storage, pump room and waiting/reception area. An Orthopedic Clinic, including exam rooms, offices, a portable Fluoroscopy procedure room, X-ray and control room and all support areas. Demolition drawings, specifications and FF/E package were all provided. A new HVAC system as well as electrical and plumbing upgrades were also instituted.
Creedmoor Psychiatric Center - Queens Village, NY
The Building 40 addition at Creedmoor Psychiatric Center is a two-story structure with a brick facade, providing recreational and rehabilitation facilities for both inpatients and outpatients.
Norwalk Radiology & Mammography Center - Norwalk, CT
This project included 15,000 sq. ft. of medical facility renovation.
Philips Beth Israel School of Nursing, Training Center for Nursing Excellence
The two-story, 25,000 sq. ft. design required gutting the existing space and transforming it into an academic facility with classrooms, laboratory facilities, a student cafeteria and study lounges.
St. Luke's Roosevelt Hospital CSS Renovation - New York, NY
The new 14-story addition to Roosevelt Hospital was renovated on the ground floor for an expanded central sterile supply department.  A third floor renovation project involved the installation of a new cardiac catheterization laboratory and re-configuration of the existing pulmonary function and respiratory therapy departments.
St Luke's Roosevelt Hospital, Hyman Newman Neurological Institute - New York, NY
The project involved a gut renovation of the existing bed floor and reconfiguration into a state-of-the-art neurological examination and office space. Full architectural design services including new HVAC, electrical, plumbing, telecom and fire protection were provided.
Blue Pool - Hong Kong
38-story high rise apartment building.
Royal Buckingham - Fort Lee, NJ
25-story luxury condominium.
Cortland Park Apartment - Cortland, NY
150 Apartments housing complex.
Cortland Senior Housing
50 Apartment Units Mid Rise Building.
Apartment Building in Riverdale - 5278 Post Road, Bronx, NY
The project, in the Riverdale section of the Bronx, includes construction of new mixed use building approx 85,000 SF and an approx 10,000 SF community facility and parking for 70 cars garage. This new building aims to construct the most suitable amount of Class A apartments with ample green recreation space and green roofs.
2515, 2531, 2541 & 2545 Olinville Avenue Apartments
$1.8mil., interior refurbishments, elevator modernization and exterior envelope / masonry facade restoration, parapet replacement and reroofing upgrades to (4) existing buildings with approx., 25 dwelling units in each buildings located in Bronx, NY.